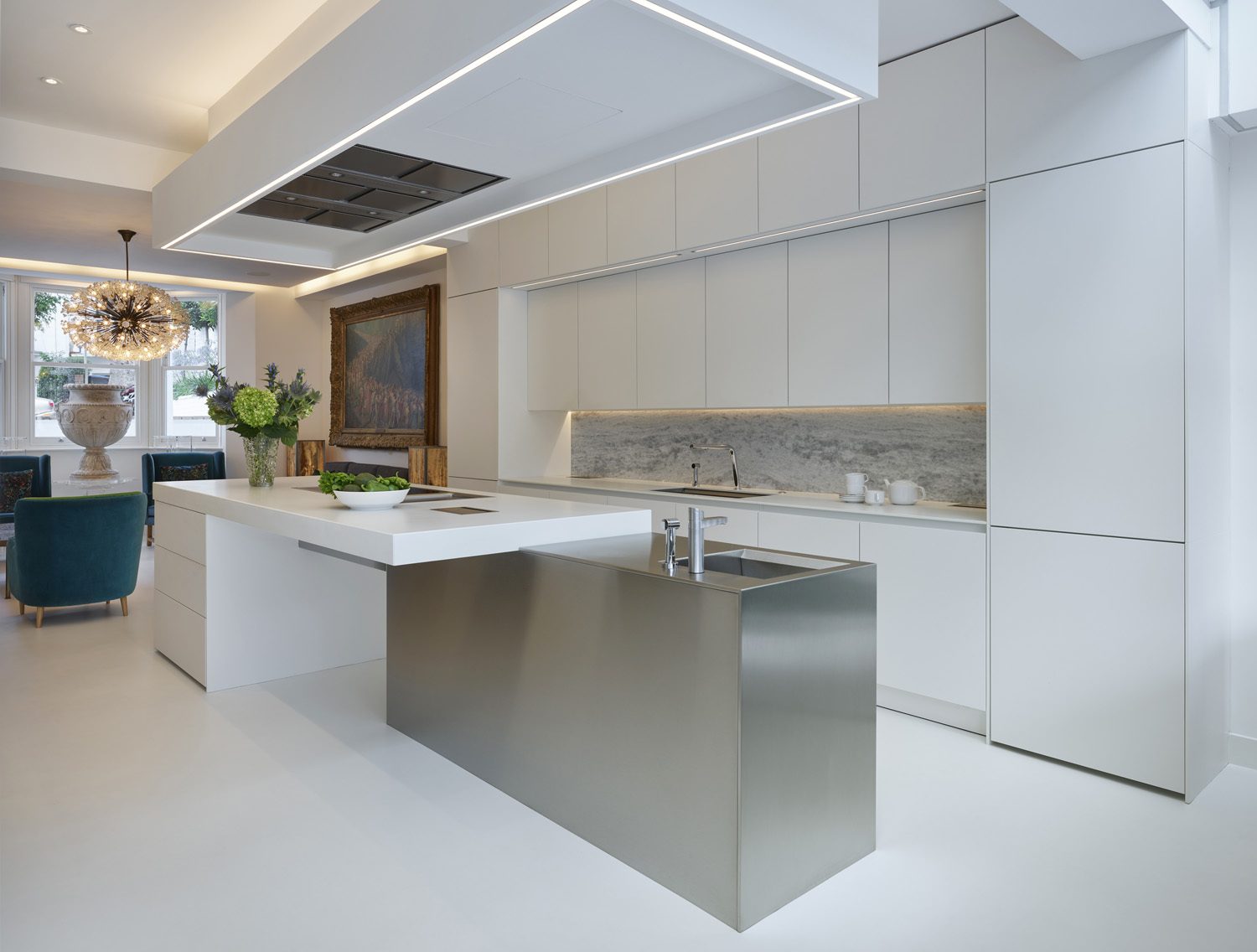 What is a handleless kitchen?
Handleless kitchens have seen a surge in popularity to match the trend for modern, airy spaces in the home. In general, there are three options for handleless doors; Firstly, there are doors with a groove running along the top or side of the door. There are doors with push-to-open mechanisms. And lastly, doors with a recessed rail for a more tactile experience. In any case, removing handles from the line of sight allows for a minimalist, contemporary look and feel.
What are sight lines?
Kitchen designers use sight lines to describe how the room can be seen from a certain point in the room. The aim is to create a space with clear sight lines to make the room as visually appealing as possible. One way to create smooth sight lines and to make the space appear bigger, is by using light colours on handleless kitchen units with reflective surfaces alongside. Handleless kitchen designs are currently the most desirable luxury kitchen design.
Sleek handleless kitchen units
The first impression as you walk into any kitchen is crucial. When you are redesigning or extending your kitchen, start by standing in the doorway and consider where in the room your eyes naturally go, and use that as your focal point. Perhaps the focal point is a large window or glass doors to the garden, or perhaps it is a piece of artwork. You should then make sure that the sight lines to the focal point are clear of any obstructions with low furniture and no fixtures and fittings that distract the eye. An aesthetically busy kitchen space with handles jutting out on all the unit doors can instantly obstruct those sight lines. Sleek handleless kitchen units are a small attention to detail within the kitchen that can make a big impact.
A bespoke luxury kitchen design champions the smaller details. And, it is often the case that truly wonderful design is in the seemingly invisible ergonomics. Appliances can be perfectly integrated into the kitchen units using a bespoke design service. It is best to avoid stand alone kitchen appliances if you want to create clean lines without interruption.
Handleless kitchen cabinets
Clear sight lines will help an open plan scheme flow more seamlessly. This is particularly true if you have a kitchen island to connect the kitchen to a dining or lounge area. Handleless units keep the space around the island clear to walk around. Pulling up a stool or leaning against the island becomes easier without the cupboard handles hitting your knees. The sleek design of these cupboards is also highly practical as they are easy to clean and therefore more hygienic with no intricate details or grooves. The handleless cabinets are also safer for children, who may find it more difficult to open the cabinet and get access to potentially harmful items. Handles also enable babies and toddlers to explore the potentially dangerous contents of a kitchen cupboard.
Sleek handleless kitchen rails
Sleek handleless kitchen rails allow a 'grip ledge style' so that you can open and close the doors with ease – this continuous rail has become a design feature in itself. The colour of the rail can be matched to a wooden veneer or kitchen splashback and  is positioned into the midline of the carcass and only put in after the kitchen units have been installed to make sure that the look is streamlined and the rail runs continuously.
There are a lot of design ideas which need to be taken into account when you are planning for your new kitchen – whether you choose to have a kitchen island, feature splashback, butler sink or cupboards with a glossy or matt finish – sight lines don't usually get much attention. However, by considering the use of handleless cupboards to improve the physical and visual flow of your kitchen, you can make your design so much more successful. The perfect finishing touch is essential to make the difference between a kitchen you like and a kitchen you love.