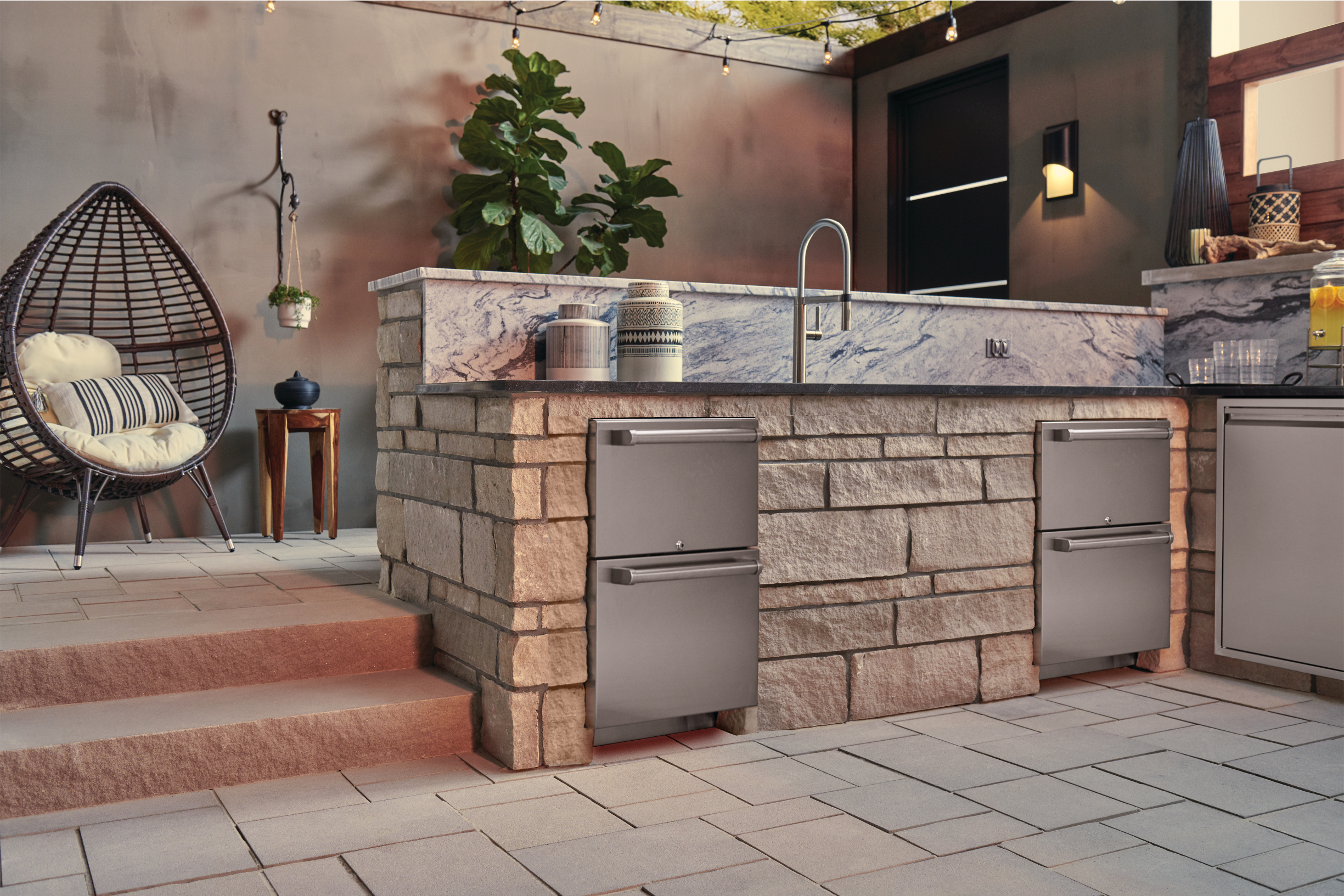 Taking outdoor dining to the next level
As the sunshine tantalises and teases with its on-again, off-again games, the season for celebrating the great outdoors gets into full swing, along with the re-emergence of the barbecue. However, this favourite summer pastime is not the charcoal-fuelled guessing game that it once was. Today's luxury homes celebrate seasonal ingredients alongside culinary expertise and elegant design.
Call of the wild
Stereotypically, and historically, the barbecue has seen men gather around a rusty grill with a beer in hand and perhaps a touch of sunburn to really set the mood. The concept of outdoor cooking and eating fulfils an almost primal need in many of us to get closer to nature and enjoy the great outdoors. Now, gadgets and purpose-designed spaces take outdoor cooking to new heights, elevating the experience (which is far from being the singular domain of men).
In all areas of kitchen and home design, the options available to us have changed dramatically over the last decade. The way a space is laid out and the materials we use all take on greater meaning -not only designed to be about storage and convenience but experience, purpose and self-expression. Meanwhile, technology has allowed us to refine what we do and how we do it -making mundane tasks easier and allowing us to revel in the sensory joys that bring us back to our true selves.
Outdoor cooking is no exception. The modern barbecue is a way to celebrate seasonal ingredients amidst the great outdoors, enjoy the summer and invite people into our homes for an almost theatrical display of hospitality. This last point is, of course, especially poignant this year. For those of us in the UK, where we don't often get the chance to enjoy sunny evenings and long hours of sunlight, these are very much the times we look forward to and those we want to make into memorable moments for our loved ones and for ourselves.
State-of-the-art style
With this in mind, brands such as Sub-Zero & Wolf have designed, not only, spectacular outdoor grills, but also outdoor refrigeration and warming appliances. Their state-of-the-art gas grills include ovens and cooktops, allowing even the most discerning of chefs to sear, grill, smoke, rotate and roast to their heart's content.
Outdoor fridges can be built into purpose-designed food preparation spaces or left freestanding. They also have smart-touch technology to control the temperature and keep food fresh for longer or make entertainment seamless by making food prep easier.
Neither is outdoor cooking limited to burgers and baps. Installing built-in herb gardens and pots around outdoor cooking spaces to bring fresh ingredients closer and including pizza ovens for baking as well as stone-baked pizzas, makes for a multi-functional, sensuous and fulfilling array of rituals that allow us to enjoy our environments to the full.
Seasonal and sensual
It's not just about technology, however. The rise of the outdoor kitchen chimes with our increasing awareness about the provenance of our food, the importance of seasonality and its intersection with the way we take care of our planet.
World-renowned chefs have long held the view that seasonal, homegrown ingredients are at the root of superb food, and now it is central to the most fashionable foodie and travel destinations. Consider, for example, Raymond Blanc OBE's Le Manoir aux Quat'Saisons in Oxford. The restaurateur famously has two Michelin stars to his name, and at his visionary hotel, guests will not only find a cooking school and a mouth-wateringly decadent menu, but spectacular displays of vegetables, herbs and abundant orchards in the surrounding gardens, from which the restaurant draws its lifeblood.
Similarly, The Pig hotel group has made a name for itself thanks to its rustic-luxe style, kitchen gardens and foodie philosophy of sourcing produce from within 25-miles of each establishment. These are the experiences that we want to replicate in our homes, especially when it comes to entertainment.
There are few things more joyful than spending the evening in the garden with friends and family, eating good food, nursing a glass of Pimms and watching the children play on the lawn. Creating the space that allows those moments to flourish is what design at home is all about, and the garden is every inch a part of that.
Designers at Nicholas Anthony want to help you create kitchen and dining experiences that enhance your experiences at home. Contact us for a consultation about making the most of your space. CONTACT NICHOLAS ANTHONY