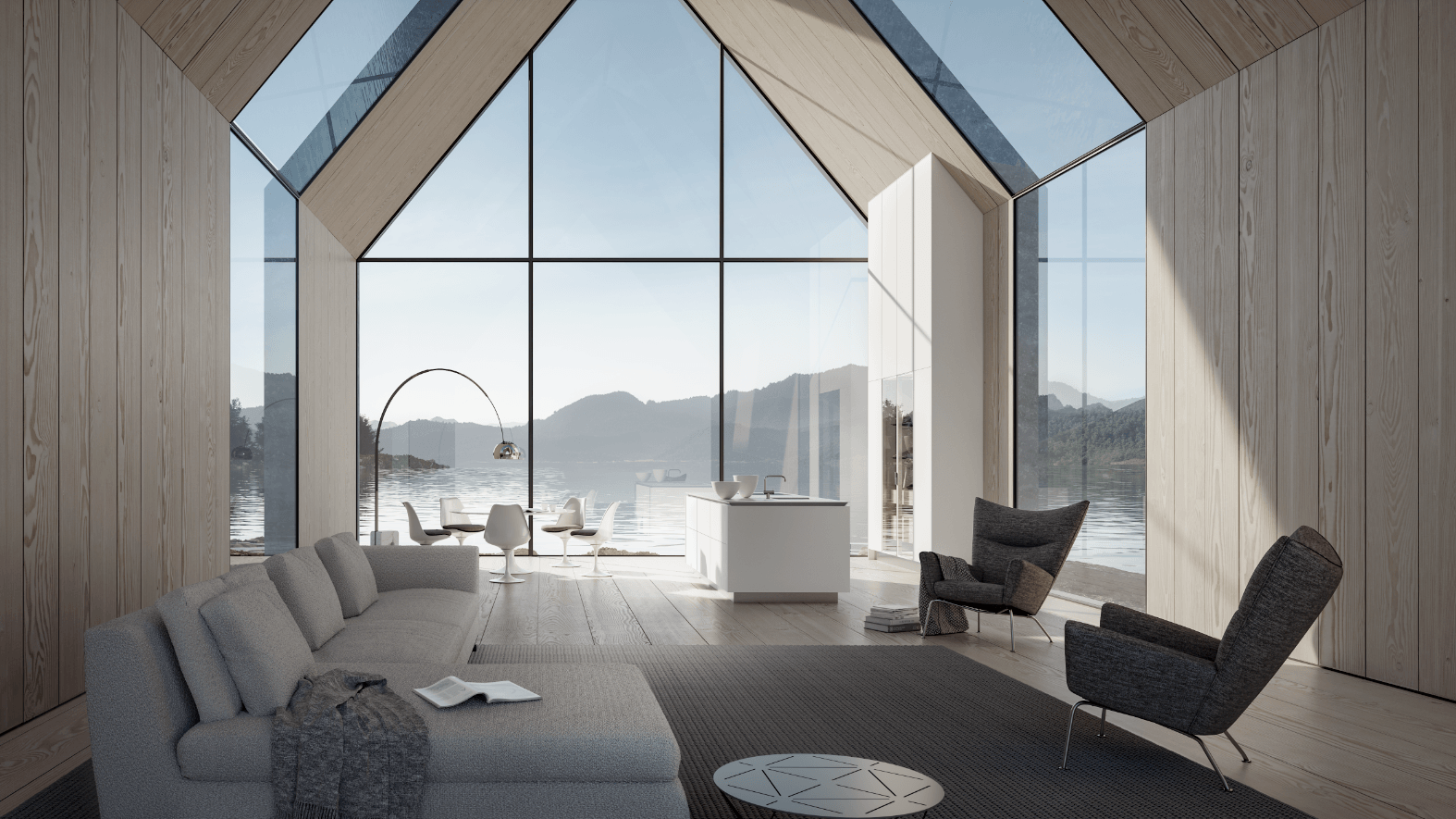 Designing luxury kitchens for holiday homes and private second homes
Whether it's a ski lodge in Chamonix, a villa in Spain or a paradise property in Barbados. Whether you let it out or keep it for private use. A holiday home is an opportunity to really let your design fantasies run wild, creating the perfect escape for you and your loved ones. That said, there are also some practical considerations to think about, especially if you want to rent it out and command premium rates. So, what do you need to consider when designing a luxury kitchen for your holiday home?
How we use our holiday homes is changing
The concept of a holiday home has subtly changed during the course of the pandemic. More and more people are treating their country, beach or mountain escapes, traditionally used for a few weeks in the year, as second homes that they intend to stay at for months at a time.
The, now much more widely accepted, work from home culture, is likely to continue that trend allowing us to live more flexibility moving forward, even as things return to normal. So, while we may have been inspired to invest in our holiday homes and second homes before, now we have even more incentive to make them into a dream destination that offers escapism, inspiration and recuperation.
Perhaps the biggest difference between our permanent residences and our holiday homes is what we expect from them in terms of how they make us feel. Where a permanent home may well be luxurious and done to the highest standards possible, at a holiday home we expect it to go that step further and to have an almost five-star hotel experience.
Kitchens and bathrooms are the crowning jewel of establishing that mindset. They are also important for allowing you to capitalise on your property – both when it comes to emotional value and personal enjoyment, but also profiting should you choose to let or sell. For example, with holiday homes now in demand, a kitchen that's ready to walk in and use, featuring the height of contemporary style and technology, can be a deciding factor for a buyer.
A chance to be a little bolder
As with a permanent residence, a kitchen is essential to a property's character. It's where you congregate with friends and family, both to entertain and unwind. However, at a holiday home you may well have the opportunity and inclination to spend more time luxuriating in the rituals of cooking and eating, so there's a chance to have fun and splash out on more lavish elements. Perhaps this is the ideal place to install that underfloor wine cellar you've been dreaming about or maybe you will include a dining table large enough to host the entire extended family.
From a design perspective, we often feel able to push boundaries and be more adventurous at our holiday homes. Many of us feel it's a place where we can sincerely focus on ourselves and reflect more on who we are. We tend to be more confident about style risks – whether that's colour, texture, lighting, use of space or adding those extra gadgets that take the experience to a whole new level.
Let the property lead the way
While our personal style is an important part of creating a kitchen at a holiday home, so too is the property itself and the surrounding area. If your home is a 15th century farmhouse in the South of France, there will be architectural, cultural and landscape influences, both inside and out, that you may want to draw on.
If your property is by the sea, then you will likely want to maximise the views and the light. Letting the surrounding landscape lead the way in the design and style of the kitchen is a great way to connect with the surrounding nature. For example, we have already mentioned biophilic design in our article about luxury bathrooms, and this is a concept that can be brought into your kitchen as well.
Maximising potential when letting your holiday home
For many luxury holiday homeowners, letting the property can be extremely profitable as well as ensuring the house doesn't stay empty for prolonged periods of time. Doing this requires a variety of practical considerations in order to cater to an eclectic clientele (for example, including highchairs for visiting families), as well as more stringent health and safety requirements.
To command a premium, it's all about creating a photogenic space that people can imagine themselves in, as well as including the accessories and technology that show attention to detail and that make a visit exceptional. Discerning guests will be cognisant of the value of a TOG kitchen knife, favoured by Michelin Star chefs, over an unknown brand. Discerning chefs will also delight in the careful organisation of drawers and cupboards with MultiMatic interior accessories from SieMatic.
In terms of process, when creating a luxury kitchen for a holiday home or second home, for us it's always about approaching it as a blank canvas and building on the things that reflect you and the experience you want to have at your property. Perhaps more than anywhere, a holiday home is a homage to who you are. It should be where you feel at your best, so that when you arrive you instantly feel uplifted.
Contact Nicholas Anthony to make the most of your holiday home kitchen design