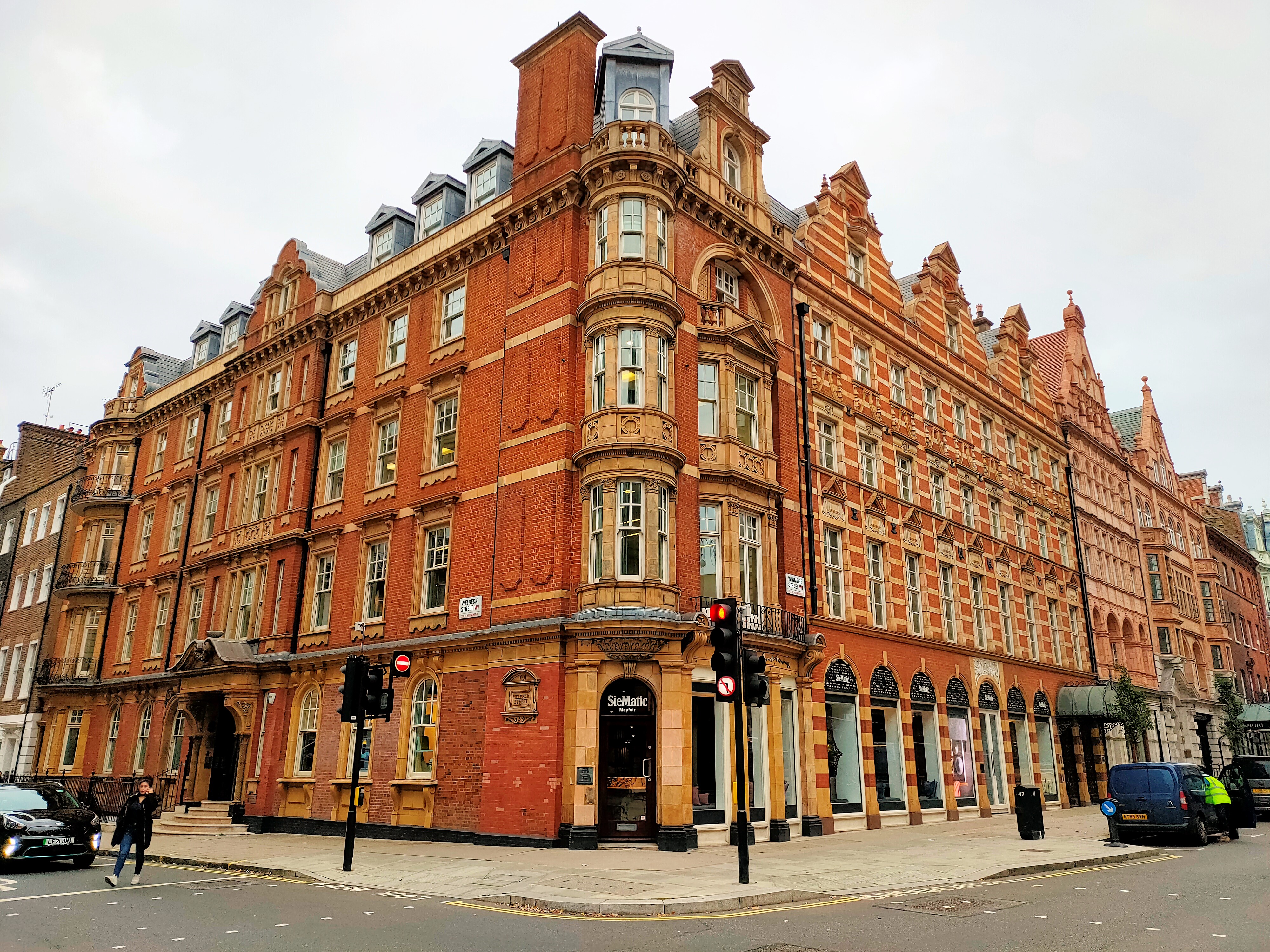 From 16th century travellers to David Bowie, Wigmore Street has a lot of tales to tell. Those stories and that heritage are amongst the things that inspire us each and every day at our London design studio.
Since 1995, Wigmore Street has been home to our team of interior specialists. We started our journey at number 40 and then moved to 44-48 Wigmore Street and 5 Welbeck Street in 2004 when we found a need for larger premises. Happily, our initial location is now a showroom for one of our partners – Gaggenau.
While we marvel and celebrate contemporary facets of design, we also draw on the best of the past, not least the world in which we immediately find ourselves. Therefore, we wanted to take a moment to tell you more about the history of Wigmore Street.
Why our location is important
You may ask, other than being our London home, why is the history of our building relevant to our work today?
If you are a lover of London, or any historic city, you will know that as you wander around, there is a palpable sense of the past that goes with you. There is a richness of experience, design and life lived that weaves its way into the fabric of buildings, events and even your own experiences.
As a team that admires and respects design across the ages, it's a great privilege to work in a building, on a street and in a city that has so much to offer. We may have a newly designed studio with many contemporary features that are the height of modern home design, but the history of our location is very much part of who we are as well.
In the words of American author, Anna Quindlen:
"London has the trick of making its past, its long indelible past, always a part of its present. And for that reason it will always have meaning for the future."
Before London was London
Much of this central point leading to Oxford Street, Portman Square and Wigmore Place belongs to the Howard de Walden Estate, whose own history is largely responsible for the development of Marylebone. Part of that long line of evolution and aristocratic marriages included the arrival of Edward Harley, 2nd Earl of Oxford, whose development plans included Wigmore Street, named for their Herefordshire family property, Wigmore Castle. As you might expect, their involvement in London's development is also the reason we have Harley Street.
It seems strange to think of this busy urban area as having been a rural estate less than 300 years ago, but Wigmore Street arrived at a time when property development was escalating at a rate of knots in this part of the world. It was predominantly developed between 1730 and 1760, following the designs of architect, John Prince, who was was put in charge of turning the area from fields into a fashionable city estate.
Meanwhile, the adjacent Welbeck Street was named after Welbeck Abbey, the Nottinghamshire seat of the Cavendish family. It was developed from the 1750s to 1770s as part of that ongoing expansion. Today it's still home to a number of fine houses and, much like the rest of the area has been heavily influenced by Debenhams over the years.
The 1737 addition of the White Hart Inn on the corner of Wigmore and Welbeck Streets, was when travellers began to stop for sustenance and to rest for the night en route to London. Although Marylebone was still considered a village, the thoroughfare en route to London was an indicator of things to come.
Naturally musical
For one reason or another, musicians were attracted to the area from early on. Organist and composer Thomas Roseingrave and his pupil John Christopher Smith, trumpeter and composer Lewis Granom and composer and organist Thomas Gladwin are just some of the people who were resident in the 1700s alone. Music continues to be a theme on Wigmore Street to the preset day, made incarnate by Wigmore Hall concert hall.
Wigmore Hall is one of the most famous features in the area, and in itself has an illustrious and interesting past. It was originally built in the late 19th century by a German firm of piano manufacturers, Bechstein. The idea was to showcase their own instruments and their showrooms were next door, so when Bechstein Hall opened in 1901, it was launched with two concerts on 31st May and 1st June.
During World War One, German companies in the UK had their business shut down and their assets seized, including the Hall. It was closed in 1915, sold to the Debenhams group, and re-opened in January 1917 as Wigmore Hall, which it continues to be today. It hosts the best of classical performers as well as acts ranging from Simon Callow to Vincent Price, hypnotists to ventriloquists, dancers, magicians, mystics and even a young David Bowie.
Our corner of Wigmore Street
Our own corner of this illustrious location has been home to a glass merchants, a florist, The Times Book Club and Bookshop and, by marriage, became linked with the Debenham's family in the 1860s. Our Welbeck Street side was built in 1885 – designed by John Norton it retains its red brick frontage to this day.
Obviously, this is something of a potted history of our home, and it's with great thanks to the team at Wigmore Hall, as well as research from UCL, that we have this information to hand and so meticulously detailed. For those interested in London's architectural past, we highly recommend a read – links below.
In the meantime, if you would like to come and visit our London studio we would be delighted to see you!
References:
https://www.ucl.ac.uk/bartlett/architecture/sites/bartlett/files/chapter09_wigmore_street.pdf
https://www.ucl.ac.uk/bartlett/architecture/sites/bartlett/files/chapter14_welbeck_street.pdf