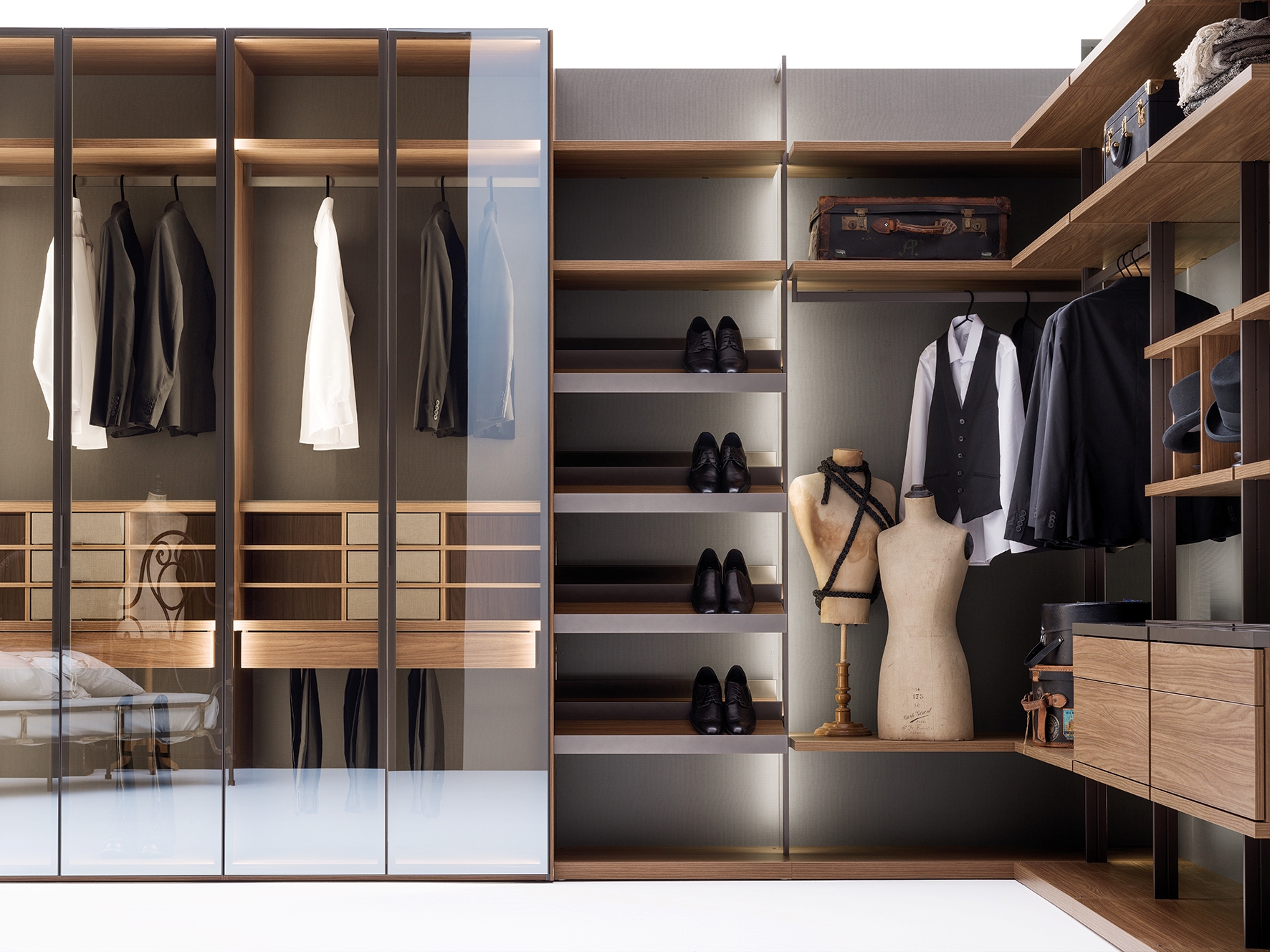 Walk-in to the luxury modern home
The walk-in wardrobe has long been a hallmark of the ultimate, luxury home. Sex and the City's Carrie Bradshaw famously opted for one, granted it was along with a pair of Manolo Blahnik shoes, instead of an engagement ring, and Leonardo DiCaprio's Jay Gatsby decadently hurled 'beautiful shirts' over Daisy Buchanan in the 2013 movie of The Great Gatsby.
As we emerge from the chrysalis once again, we can shed the loungewear and embrace getting dressed in all its ritualistic glory once again – especially if you have the space to do it properly. So, when it comes to creating a walk-in wardrobe fit for the modern home, what do you need to consider?
Personal Space
The walk-in wardrobe is an opportunity to showcase the beautiful things you own, see them on display and celebrate your personal style. It's a combination of your favourite Bond Street boutique as well as a little sanctuary that's exclusively for you. In the most luxurious of homes, individuals might have their own walk-in wardrobes, complete with links to en-suite bathrooms as part of a journey through the home. That said, they can be exquisitely designed to share as well.
Style can range from light, white starlet-style dressing rooms to sultry, seductive Bond-inspired dens, using a combination of organic materials, smoked glass doors and upholstered finishes. It's important to remember that there should be a sense of enjoyment here; it's a place where you can really be yourself and it isn't about anyone else.
Dedicated spaces for shoes, bags, jewellery, trousers, skirts, dresses, and ties will all dictate the shape and organisation of the room, and this is where planning properly is imperative. Masculine wardrobes tend to have shorter cupboard spaces to accommodate jackets, shirts, and trousers, while feminine style clothing is more suited to longer wardrobe space for gowns and skirts.
Lighting Up
Lighting is vital for both practical and presentation purposes. LEDs are a nice touch for showcasing special items so you can enjoy them in situ as well as when you take them out, but they are also important so you can literally see what you have – it's all too easy to forget.
Occhio are masters of getting lighting just right, so you can leave the house feeling your best, learning from Parisian hairdressers who mastered the art of perfect lighting so they could see and celebrate their work. After all, this isn't just about getting dressed – you could do that with any old wardrobe. This is about a space that is intimately yours, designed to prepare you help you feel confident about yourself.
Modern Wizardry
While space is clearly something that plays a role in creating a walk-in wardrobe, designers are increasingly innovative in the way they play with it, so you don't have to live at Buckingham Palace to have a fancy closet. For example, at our newly updated showroom on Wigmore Street, we have been working with the Italian designers, Caccaro. Their Camerino walk-in wardrobes are customisable to fit your space and make the most of it. They even come complete with all the modules you want.
Technology, as in all areas of life, is also catching up to turn the traditional idea of a walk-in wardrobe on its head by making the space work harder for you. For example, there are even smart wardrobes on the market that sanitise and iron out clothes so that they're ready for the next morning.
As with all areas of the home, exceptional design is about the Holy Trinity of principles: purpose, personal style, and perfect form. What space in your home could possibly be better suited to creating something beautiful than the inner sanctum where you become the version of yourself that you want to present to the world?