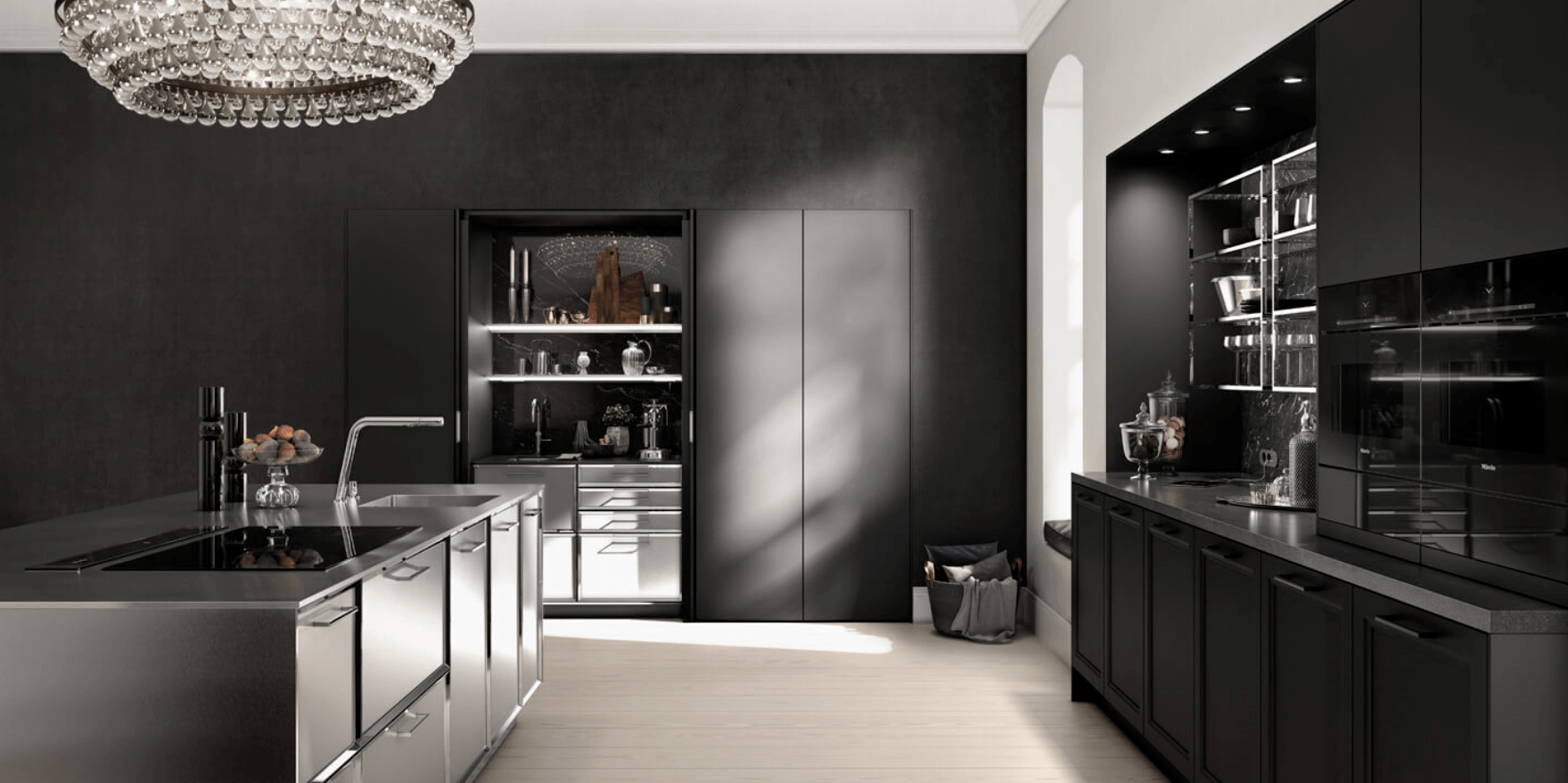 As we have mentioned before, the key to timelessness and elegance in a kitchen is at the intersection of form and function. A modern luxury kitchen has to work seamlessly as well as look exceptional, and it needs to stand the test of time as well. For this reason, the engineering that goes into appliances, fixtures and fittings needs to be based on experience, skill and an eye for detail. Few industry leaders do that better than our partners at SieMatic.
Having been established in 1929, SieMatic is a German manufacturer that balances style and innovation with an unrelenting focus on excellence and functionality. They made their name as the inventors of the handle-free kitchen. That set the tone for an ongoing design philosophy that harnesses simplicity and clean lines alongside precision engineering and an ongoing mission to meet client needs before they are even aware that the need is there in the first place.
Made for living, designed to make a statement
Kitchen trends have evolved, and increasingly prioritise not only clean lines and luxe finishes, but a living space aesthetic. The more of the utilitarian function of a kitchen that can be hidden, the better. This has made way for an environment that's designed to be enjoyed, borrowing materials and concepts not traditionally associated with the kitchen.
For example, the use of traditional wall cupboards has been replaced with floor-to-ceiling cabinetry to hide workspaces, cooking utensils and appliances. The island is becoming the hub of the kitchen, featuring base cabinets that largely provide space for the sink. Hidden areas behind sliding doors mute the daily grind. Everything is slim, refined and tactile; carefully placed display cases using glass and strategically chosen backing veneers are for artworks and select items chosen to make a statement about individuals and their home.
Silent purpose and attention to detail
SieMatic have always been at the forefront of consumer wants and needs, and their own take on interior architecture sets the standard across the world. While many German brands are known for placing function over and above style, they manage to straddle both elements with aplomb. A key example is in the form of the new SLX PURE collection. Inspired by a sense of weightlessness, it takes the handle-less kitchen to a new level, allowing light, colour and texture to set the scene in an environment where everything has purpose.
To truly understand the level of attention that has gone into ensuring that look and feel, you need to look at the inner workings of each item. For example, what appears to be a glowing 6.5mm thick handle-less door on first inspection, is a masterpiece in hidden technology. SieMatic's re-designed recessed grip concept uses exquisite materials and space for a hidden LED strip that washes a subtle light across the handle without compromising on smooth movement. The result is an elegance that belies its sturdy construction.
Endless thought has also been put into the infrastructure and details that enhance the homeowners experience as well. From the linings inside drawers, inspired by luxury boat decks, to make sure their contents stay in place, to almost invisible rubber seals on cupboards to prevent dust, smells or condensation from getting in (or, in the case of the bins, out). The patented aluminium MultiMatic interior accessories system meanwhile, provides a multifunction track inside storage units. Elegant trays, hooks and handles can be added and moved around as required, in order to maximise the use of internal space as well as enhance convenience.
Built to last
These silent heroes of the brand are essential to its hallmark dependability as well as creativity. Not simply evidence of their deep understanding of homeowners, their wants and needs, SieMatic is also mindful of the need to make kitchens that are built to last. The brand is proudly known for putting its products through the most rigorous testing processes to ensure dependability and longevity. This is the other essential element in a truly well-designed kitchen – durability.
A kitchen being an important investment in your home, it is essential that it stands the test of time, both in terms of style and strength. Our experience with clients is that many will come to us having had a SieMatic kitchen custom designed for their home 20 or 30 years ago. To this day, they look new, and the simple addition of small updates allows them to take advantage of the latest technology for a whole new level of enjoyment. It's this combination of factors that have made, and continue to make, SieMatic a defining kitchen innovator for nearly 100 years and counting.
Contact Nicholas Anthony to book your kitchen design consultation today