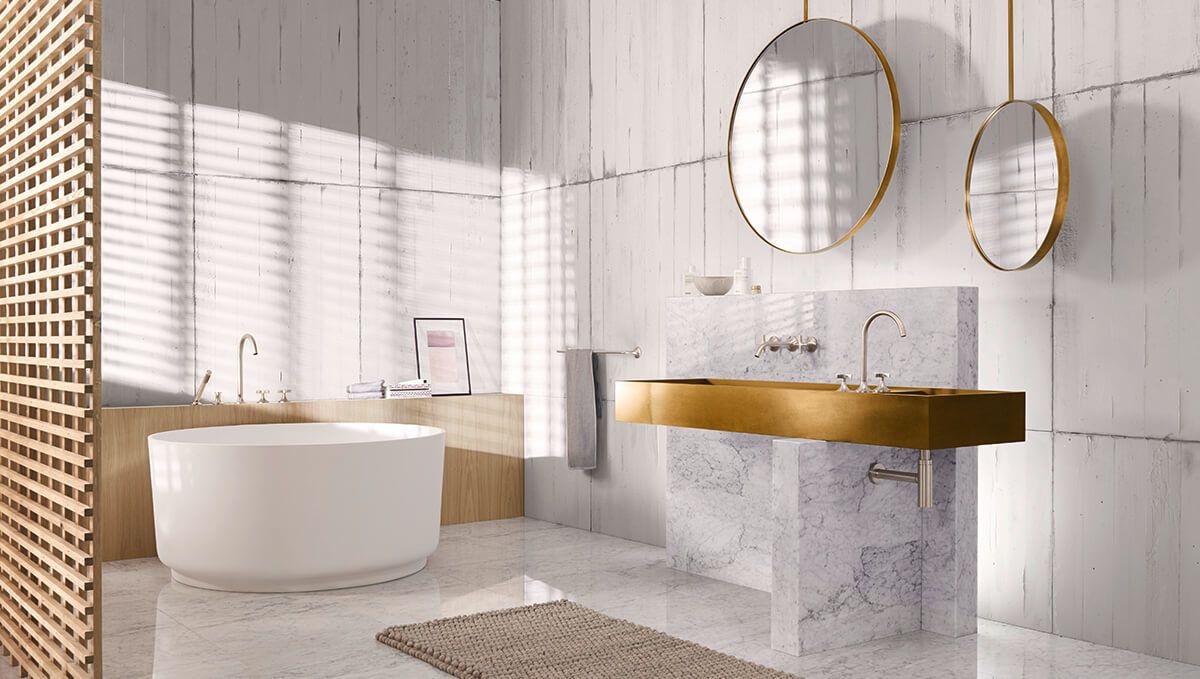 What the most stylish bathrooms will look like in 2021
While timelessness is an intrinsic part of exceptional design, incorporating the most up-to-date features and trends, helps to ensure your enjoyment and the way you feel when using the space. The art is in bringing the two together so that they work for you and your lifestyle now and for years to come. As we move forward into 2021 there are some clear features that mark out the most stylish bathrooms.
The events of last year meant that an already rapidly rising interest in wellness took on far greater significance than ever before. Not only that but investing in wellbeing in our own environments began to take centre stage. Bathrooms are arguably the most personal spaces in the home. Not merely functional, they have the capacity to offer escapism and calm – an oasis of peace where for a short time each day the focus is unequivocally on you and the daily rituals that enable you to face the world.
While any bathroom is a place of cleansing and restoration at the start and end of the day, the most luxurious bathrooms take that premise and expand upon it. The result is a spa like environment fit for a five-star hotel in your very own home. Taking that essential and most unruly element, water, that's so intrinsic to the bathroom, and using it as a conduit for nature's healing powers, these are the key trends to consider when designing or updating your bathroom this year.
The Scandinavians have been bringing wellbeing into home bathing rituals since the dawn of time. In these chilly corners of the world, no one would think twice about having a sauna or steam room at home. As we exercise more away from the gym, spend more time outdoors and seek to find a greater sense of relaxation at home, bathrooms follow that evolving culture and the home steam room has become the rising star in the most forward-thinking properties.
Wellbeing technology
In all areas of life there are now plenty of gadgets to support our wants and needs. The bathroom is no exception but sorting the wheat from the chaff is a question of knowledge and experience. From showers imbued with healing properties to lighting designed to help the human brain switch off, brands such as Dornbracht use the highest quality materials as well as progressive production to create award-winning technology that elevates the experience to a whole new level.
Biophilic design
Bringing more of the natural world inside, in order to enhance the sense of tranquillity is increasingly popular and recognised for its wellbeing benefits. Adding sensory variety, biophilic design is amongst the most popular features in 2021 luxury bathrooms. It is the concept used in architecture to increase connectivity to the natural environment through the use of direct nature and indirect nature. For example, incorporating natural lighting and ventilation, living walls with hydroponic systems that allow them to be automatically watered, and raw materials like hardwoods and natural stone. As humans we need biophilia – the touch, sounds, sights and smells that connect us to nature through this type of design have been found to support cognitive function, physical health, and psychological well-being. However, that doesn't mean compromising on a sense of luxury. It means working with the space, maximising its potential, and choosing materials that are both natural and rich in colour, texture and style.
Japanese influences
The Japanese art of Zen has been incorporated into people's lifestyles in a variety of ways, entering popular culture in different formats across the 20th century. In essence, it's about bringing balance into everyday rituals and a meditative approach to the way we live. In terms of design, this has been interpreted as how a space flows – minimalism, natural light, a lack of clutter – an approach artfully achieved by the likes of Hansgrohe and their clean-cut fittings and fixtures.
Quality and longevity
Alongside our own wellbeing, we are collectively becoming more aware of our responsibilities for to the world around us in the way we live our lives. A key part of that is not just in choosing materials and products that have been responsibly sourced, but also ensuring that they're of sufficient quality and craftsmanship that they're built to last. There's a practical consideration with this; the nature of bathrooms is that over time things can wear out, but the right high-quality brands will ensure that they stock spare parts so that items can be replaced if necessary. Luxury isn't just about the price of things or how they look, but also how they work in your home. Longevity is one of the most important (if less glamorous) parts of that – not only supporting the environment but also ensuring your investment in your home returns significant value both financially and in terms of how you enjoy the space.
Discover more from our bathroom range.